Policies
---
Criminal Record Check (CRC) Policy
All officials associated with a soccer team and listed on an ASA form must have a valid criminal record check clearance prior to participating in any soccer activities:
Coaches

Assistant Coaches

Managers

Bench Persons

Executive Members
And coaching staff designate who is listed on the ASA form without the submission of a CRC will be removed from the ASA form and will be denied any involvement with coaching activities. Remember, only those officials noted on the ASA form are allowed behind the bench in a game.
CRCs can be obtained from the Athabasca RCMP detachment Monday to Friday from 8:30 a.m. to 4:30 p.m. Two pieces of government issued identification are required, one of which must be a photo ID. Acceptable ID is:
Alberta Driver's License

Passport

Birth Certificate

Alberta Health Card
The detachment needs approximately two weeks for processing a CRC.
If you are unlucky and your birthdate coincides with someone in the police system, an enhanced CRC with fingerprints will be required to confirm your identity. The Athabasca RCMP detachment has access to the technology for the electronic submission of fingerprints which means that the wait for an enhanced CRC should decrease to approximately two weeks (the old manual fingerprint verification took months to process). If you require an enhanced CRC, request a letter from the Athabasca Soccer Association which allows the enhanced criminal record check fees to be waived for any volunteer.
Please email your current criminal record check to the Athabasca Soccer Association's Coaching Director who will record it and forward it to Tri-County. Your criminal record check is valid for a three year period.
Coaching Certification Policy
Every team playing in Tri-County league must have one coaching official who is certified at the appropriate level. This Alberta Soccer requirement insures that all soccer players are provided with consistent instruction. The courses are very interactive and player-focused, with each course tailored to meet the needs of the player as they develop at different stages of their childhood and in to adulthood. The courses empower coaches to lead a team with confidence regardless of previous soccer experience.
The following are certifications available:
U5-U7 Active Start (4 hour clinic)
U9 FUNdamentals (7 hour (1 day) clinic)
U11-U13 Learning to Train (14 hour (2 day) clinic)
U15+ Soccer for Life (14 hour (2 day) clinic)
The completion of the courses involves an online test called "Making Ethical Decisions". Once the practical and online sessions are completed, you will be certified and ready to coach your team.
The Athabasca Soccer Association will pay for these courses and reimburse travel and hotel expenses for any person volunteering to coach a team.
Please obtain your certification at the coaching clinic and email it to the Athabasca Soccer Association's Coaching Director who will record it and forward it to Tri-County. Any ASA form that is submitted to Tri-County without one team official possessing the age appropriate coaching certification will be rejected and the team will not be allowed to compete in the league.
Players Driving to Away Games Policy
The Athabasca Soccer Association does not permit players to drive themselves to away games.
Refund Policy
The final date for refund requests is different for each respective season (indoor/outdoor) and age group and current season information will be detailed under the Registration menu item. Refund amounts will be the registration fee paid less a $25.00 administrative charge. For age groups U11 to U19, once Tri-County declarations are made refund amount will be the registration fee paid less a $50 administrative charge.
However, if our Association cannot provide a player with a team to play on, the full registration fee (100%) will be refunded.
Smoking Policy
There is NO SMOKING on any of the soccer fields at any time.
Clothing & Equipment Policy
Soccer players must wear appropriate sports clothing:
Outdoor: Shin pads, black soccer socks, and black shorts are mandatory for all age groups & cleats are strongly recommended.
Indoor: Players must wear indoor soccer shoes or runners and shin pads. No outdoor shoes or cleats are permitted in the Multiplex Field House.
For safety reasons, please ensure all jewelry and baseball caps are removed during play.
The Athabasca Soccer Association provides a basic first aid kit for each team; parents must provide items like cold packs or ice. Be sure your child brings their own water bottle.
Uniforms provided by the Athabasca Soccer Association are for wearing on the soccer field players ONLY.
Team Supplies: The Athabasca Soccer Association will provide all Teams with balls, cones and pinnies. If in supply, portable benches will be provided for teams U11 and older.
Inclement Weather Policy
U11-U19: Players playing in the Tri-County league in the U11 age group and over are expected to play in the rain. Due to the very short and intense outdoor soccer season, it is VERY difficult to reschedule rained out games. In the case of lightning, the game should be postponed until the danger passes. The sole reason for a game to be postponed is field closures by the community or if a game is postponed by the REFEREE; coaches cannot independently cancel games due to weather. If the referee makes a decision to postpone the game, the coaches must notify Tri-County of the postponement and they must provide Tri-County with a rescheduled date within 7 days of the original game date. All make up games must be completed two weeks before the end of league play. In the event that the fields in your community have been closed, it is the responsibility of the home team to notify the visiting team. The visiting coach MUST be informed by 4:00 p.m. on game day and at least four hours ahead of game time for weekend games.

U5-U9: Weather cancellations are at the coach's discretion. The coach should discuss his weather policy at the start of the season and advise his player's parents regarding any weather decisions. In cases of extreme muddiness whereby WHPS makes the decision to close their fields, all coaches will be contacted by the Field Scheduler.
If any parent is not comfortable with the decision to play in the weather, they have the right to pull their child without any fear of reprisal.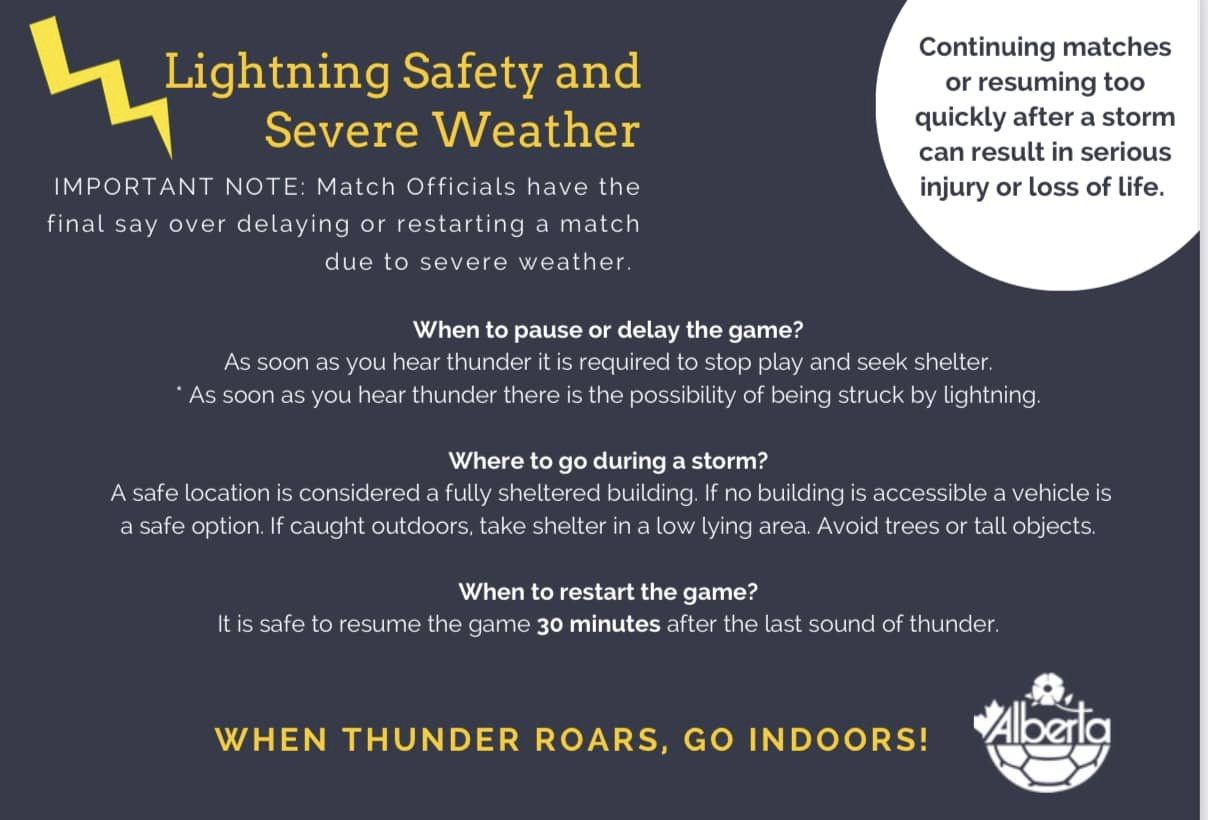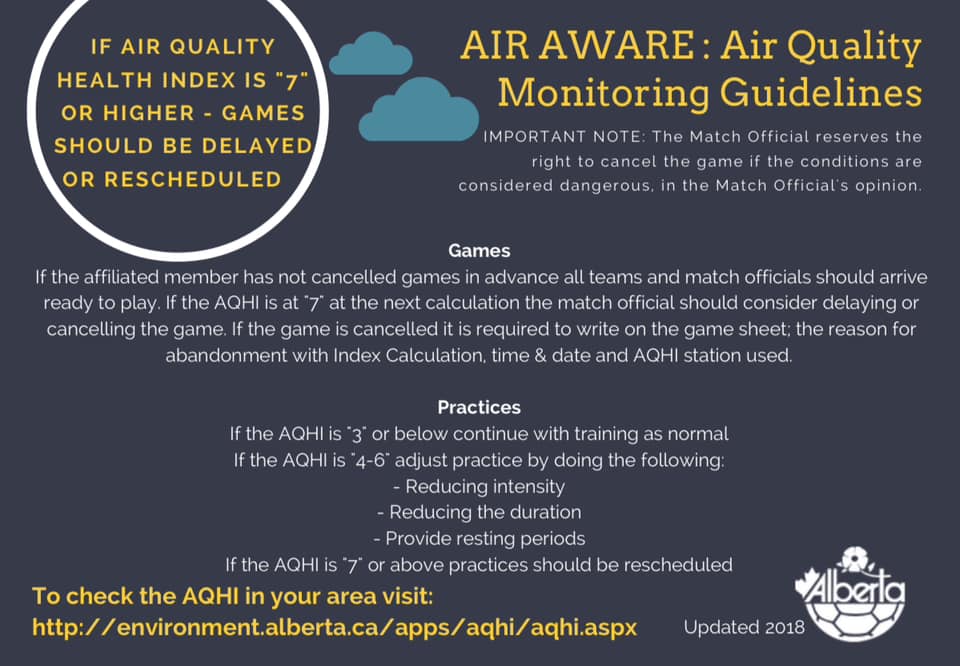 Lightning Safety & Severe Weather Policy
Athabasca Soccer Association Player Movement Policy
Athabasca Soccer Association believes that players are best served playing with their designated age group. The association does recognize that situations do exist where player movement from a younger to an older age group is necessary.
Procedures
1) The decision to move players up will only be considered when:
The number of players at a particular division falls below the minimum number of players required to field a team
Exceptional circumstances as determined by the executive
2) Any decision to move players up will be on a year to year basis; the association is under no obligation to move a player up in subsequent years following a decision to move a player for a particular season.
3) Any movement cannot significantly impact the division the player is moving from including:
Lower the numbers to less than 17 at U14-U16
Lower the numbers to less than 14 at U12
Lower the numbers to less than 13 at U10
4) A maximum of 3 players can be moved up to a particular division.
5) Decisions on player movement for U5, U7, and U9 will only be made based on developmental maturity and player safety.
6) Any requests to move levels must be made in writing and prior to final team declarations for league and/or provincial play.
7) If player movement is required, the option to move must be made available to all players. If the number of players wanting to move exceeds the number of positions, then tryouts must be conducted. The Coaching Director will be responsible to develop procedures to ensure appropriate tryouts and/or selections are made.
8) Player selection will be based on a number of considerations including but not limited to:
Overall player development, both physical and emotional
Age
Player Safety
Position played (i.e. Goalie)
Level of Skill